How to Auto - Publish Your Instagram Carousel Posts For Free
It's nearly impossible to consistently show up on social media without a scheduling app. We are big fans of both Planoly and Later for our client accounts, as well as for our own posting. Being able to batch create content and schedule it in advance is the only way to keep up with the demands of each social media platform's algorithms - especially if you're running multiple accounts. While we love Planoly and Later, they do have drawbacks. Neither of them have the capability to autopost carousels to Instagram. This means you can schedule them, and then they'll notify you when it's time to post, and then guide you through the steps of posting your carousel to Instagram. Plus both of these services cost money. We have a better way to schedule your carousel posts, so you don't have to worry about missing a posting notification ever again.
The secret? Facebook's Business Suite. If you have a Facebook page connected to an Instagram page, you can schedule all of your content for auto publish on both Facebook and Instagram through Facebook's Business Suite.
How to Schedule Carousel Post to Auto - Publish on Instagram
You can find your Facebook Business suite by clicking on this link: business.facebook.com
After that, you'll be taken to a page that looks like this:
Make sure you use the drop down menu on the left to make sure you're logged into the account you want to post to. Then click on "Create Post".
Next you'll be taken to a page where you can upload your media, add your caption, and preview what the post will look like on the Facebook Desktop News Feed, Facebook Mobile News Feed, and the Instagram Feed. To start your carousel post, click "Add Photo".
You can upload up to 10 photos for your carousel post. After you upload your photos, you can drag them into the correct order (show below).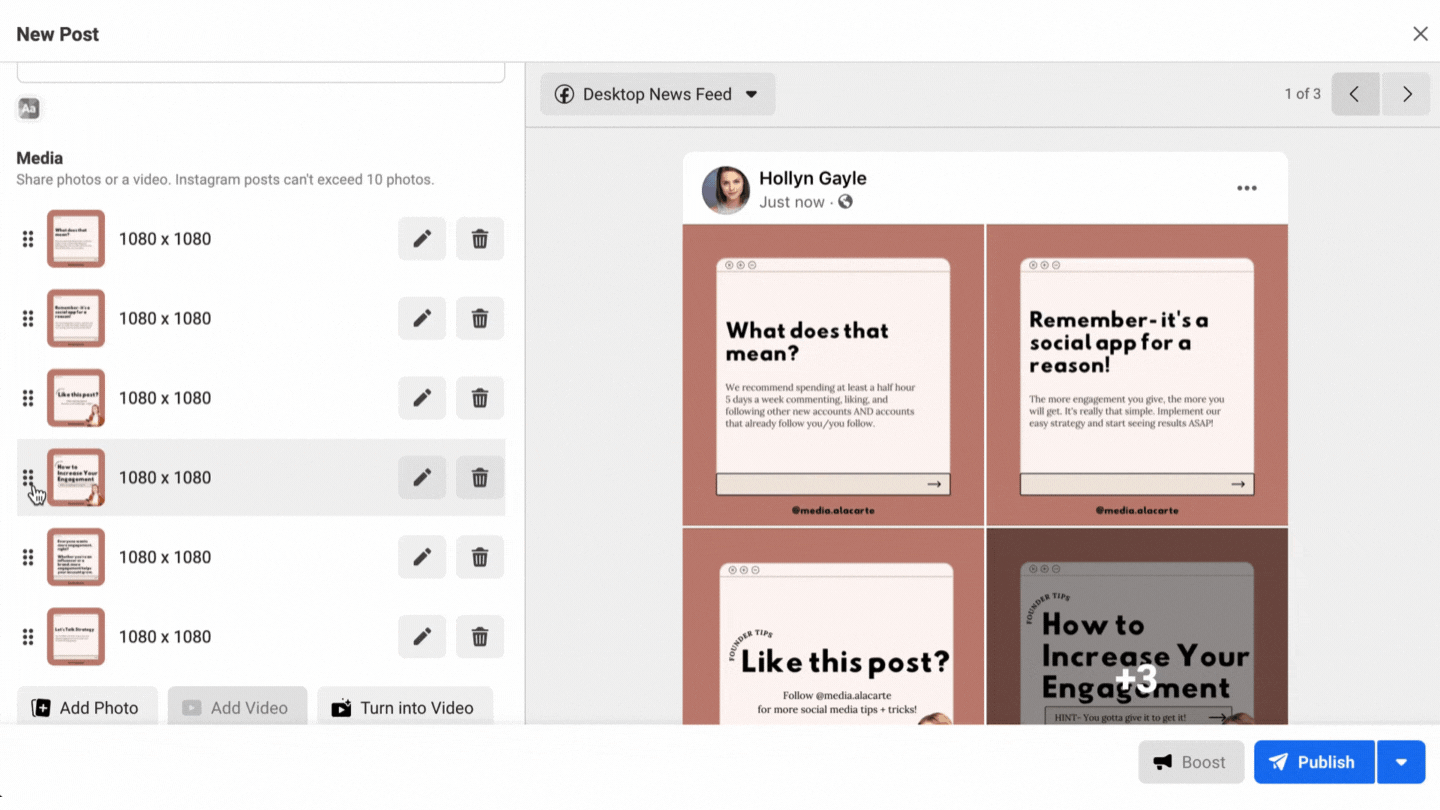 Next, add your caption in the "Text" box.
BONUS TIP 🔥: If you want to add hashtags to your Instagram caption, schedule your Facebook and Instagram post separately and customize the captions.
Now use the drop down menu to preview how your post will look on the Desktop News Feed, Mobile News Feed, and the Instagram Feed.
If everything looks good, click the arrow next to the "Publish" tab in the bottom right corner. Then click "Schedule Post".
Select the date and time you want your carousel post to be published. Finally, click save.
Now your carousel post will auto - publish to Instagram without you having to give it a second thought! This is seriously a game changer if you are manually publishing carousel posts for multiple accounts multiple times a week. It saves you the time of downloading the content to your iPhone, switching Instagram accounts, copying the caption, etc. BUT it also saves you from every entering the Instagram app. If you work in social, or you spend a lot of time running your personal Instagram account, you know that time away from the app is a blessing. With auto - publishing, you're saved from the risk of getting caught in the endless scroll of Instagram. We're definitely going to take advantage of this feature from Facebook's Business Suite!
#instagram #autopublish #manualpublish #facebookbusinesssuite #planoly #later #batch #contentcreation #scheduling #carouselpost